5x7 & 6x10 Music Reading Pillow $5 US
The discount will be applied at checkout
A musical reading pillow will make an ideal gift for music lovers. For the 5x7 hoop, you will need to do 2 hoopings. The 6x10 inch design stitches as one design. An applique design is also included in both sizes if you are going to make the pillow pocket with a printed fabric, so the piano keys will be white. Instructions for making these pillows are not included. For those who are not familiar with reading pillows, there are wonderful training videos on You Tube. Just Google Reading pillows on You Tube and you will find many links.
5x7 Music Reading Pillow
Buy Online
Buy Online
The lovely pillow below was made by Cheryl Speer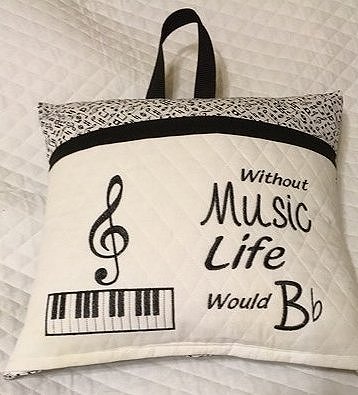 There are lovely musical fabrics available to choose from.
Back to New Designs Index Page
Back to Older Designs Index Page
Contact Elsa Goussard at elsagoussard@telkomsa.net