8x8 inch Linda Quilt $15 US
This quilt was inspired by Linda Madrid. When she tested these designs for me a number of years ago, embroidery machines with 8x8 inch hoops weren't available yet and Linda used the 4x4 inch designs and multiple hoopings for her quilt blocks. She made such a beautiful quilt and since machines with 8x8 inch hoops became available, I felt a desire to create such a quilt for 8x8 inch hoops.
8x8 inch Designs
4x4 inch Designs
Here are pictures of Linda's quilt.
Linda only used one design, which she combined in two different ways for her quilt blocks. You can use the same two combined designs or you can use all 4 combined designs that I have in this set. There is also a corner design for the quilt corners or you can create your own corners and borders with the 4x4 inch designs which I also included in this set. Use any colors you like.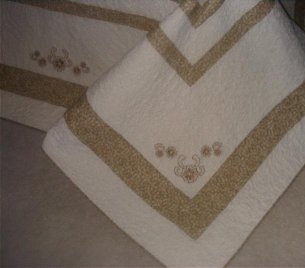 Back to New Designs Index Page
Back to Older Designs Index Page
Contact Elsa Goussard at elsagoussard@telkomsa.net