Tone on Tone Butterflies $20 US

This set of 20 designs is ideal for those who would like to add butterflies to projects emboidered with other designs or they can be used on their own. All the designs have been digitized with two colors, but I preferred to stitch these samples with one color only.

The frame around each design represents the 4 X 4 inch stitching area and the designs stitch out exactly the size you see them in each frame.





Projects with these designs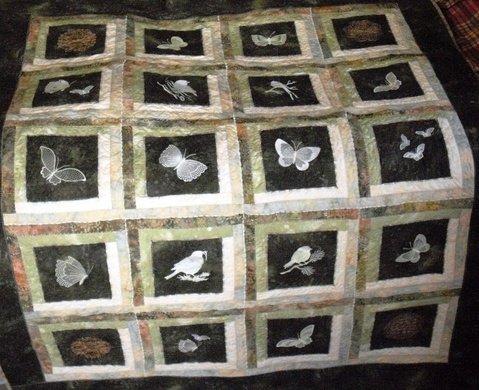 Jan Bean in Virginia, USA made this beautiful quilt and she used a number the Tone and The Butterflies also.
Please e-mail Jan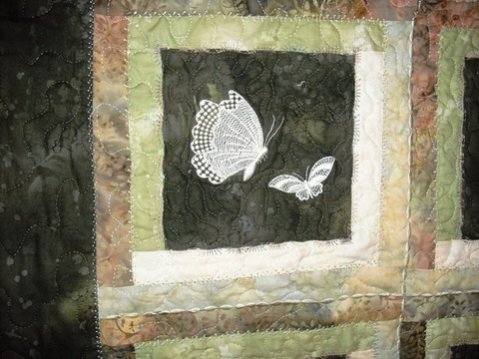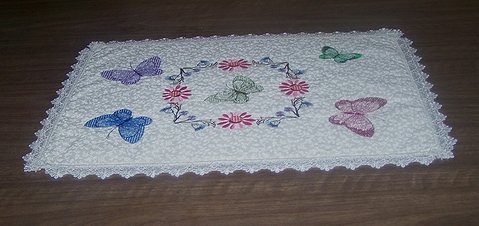 The butterfly table centre above was made by Jo Lynch of Australia. The butterfly fridge magnets were also Jo's brilliant idea and she was so kind to share with us how to make these butterfly magnets.

To Make butterfly magnets:
1. Hoop two layers of WSV & one layer of Organza, same
colour thread in bobbin as body of Butterfly.
2. Sew out butterfly, repeat colour 2,( it helps stabalize the wings & makes the body solid to hold the magnet)
3. Rinse out WSV & start to shape the butterfly.
4. When almost dry cut away excess Organza.
5. Dry completely.
6. Glue magnet to back of butterfly, dry, & put on your fridge.

More Project Ideas
Combine the butterfly designs with other designs you already have



Create your own quilt blocks
With the butterfly designs and other designs you already have