For the Pfaff Creative Vision, Brother PR-600, Baby Lock BMP-6, Brother Innovis 4000, Baby Lock Elegante machines Viking Designer #1 and DSE.

Each design will be embroidered with two hoopings to form one large block. This design is ideal for pillows and quilt blocks. One half can also be used for jacket backs or to make large scallops on tablecloths or Roman Blinds.

This design can be embroidered in 4 different ways. The first design will stitch with the normal stitch density and is digitized to be used with metallic threads. The second design has much less stitches and will stitch quite fast. The open stitches also give a very interesting look and texture to the design. This design is also digitized to be ermbroidered with metallic threads. On these two designs, each flower has a metallic Gold outline and Gold flower centers. The stippling and the leaves can also be embroidered with metallic Gold.

The third design also stitches with the default density, but it will be stitched with normal flower colors. The outlines on the flowers are the same as the flowers. The stippling can be embroidered the same as the background fabric, or in a contrasting color. The fourth design is the same as the thrid design, but has much less stitches. The designs with less stitches also stitch wonderful on teeshirts.

| | |
| --- | --- |
| | |
| 11.80x5.79 inches 299.70x147.10 mm | 11.80x5.79 inches 299.70x147.10 mm |
| | |
| 11.80x5.79 inches 299.70x147.10 mm | 11.80x5.79 inches 299.70x147.10 mm |


PES
for PR-600, BMP-6, Innovis 4000, Baby Lock Ellegante


VIP
Viking Designer 1 and DSE

Pfaff Creative Vision
VP3 format.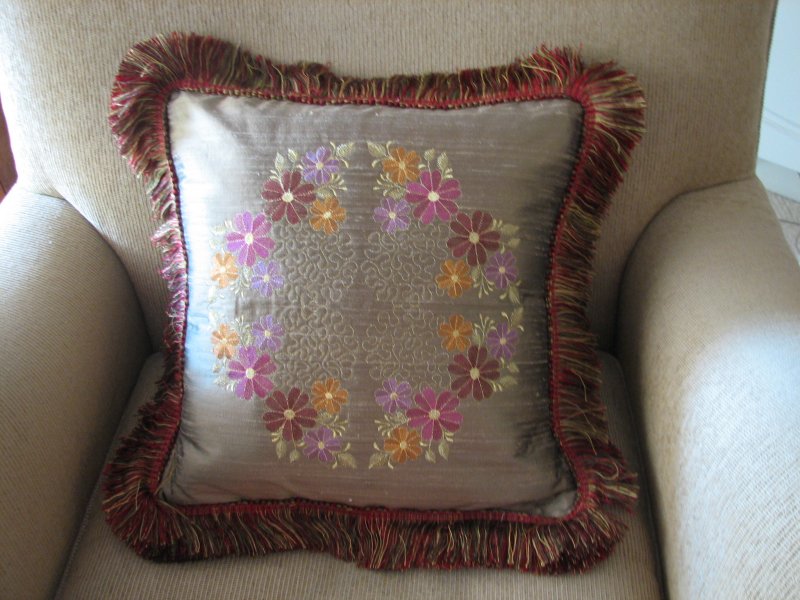 Monica Powell made this lovely pillow on her new Pfaff Creative Vision.
Please e-mail Monica

Joan Wium made this chiffon pillow for her daughter's bedroom. Please e-mail Joan

Joan Wium of Polokwane, South Africa, made this stunning organza shawl for her daughter Nathalé. It was for a Valentine's dance at their school. Please e-mail Joan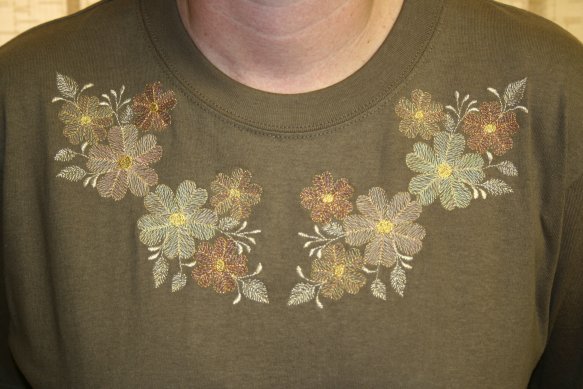 Here the design was stitched without the stippling, so it would fit around the neckline of this teeshirt. A variety of metallic threads were used.