Flowers & Lace Lineart $20 US

These designs look quite simple, but the possibilities are endless. They stitch fast and are ideal to make a quick quilt. I see these designs all in one color in a tone on tone quilt in white or cream colors. Please look at the bottom of the page for a clever idea to use these designs in another quick project.

Available in 5 sizes
The frame around each design makes that the size of all the designs are the same for each hoop size. See exact sizes below the images.


5x7 = 5.10x5.80 inches (129.60 x 147.40 mm)
6x10 = 6.26x7.15 inches (159.00 x 181.70 mm)
7x12 = 7.06x8.08 inches (179.20 x 205.30 mm)
8x8 = 6.96x7.85 inches (176.70 x 199.30 mm)
8x12 = 7.84x8.97 inches (199.20 x 227.80 mm)


6x10 = 6¼"x10¼" (160x260mm)
7x12 = 7x11¾" (180x300mm)
8x8 = 7¾"x7¾" (200x200mm)
8x12 = 7¾"x11¾" (200x300mm)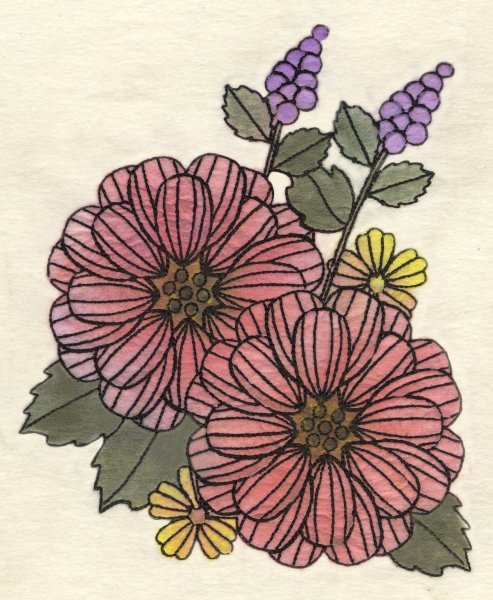 Since I don't have much time for sewing, I got the idea to use the flower outlines in a quick project. I have fabric paints and diluted it with water. It was so easy and fast to paint this design and it was also fun to do. You don't even need skills to do this, as it was just like using paint in a coloring book. I used black thread for the outlines, as I knew the paint would not cover the outlines.

One can still make pillowcases, tablecloths, placemats, border patterns and so many things with these painted designs too. It will also look wonderful on clothing.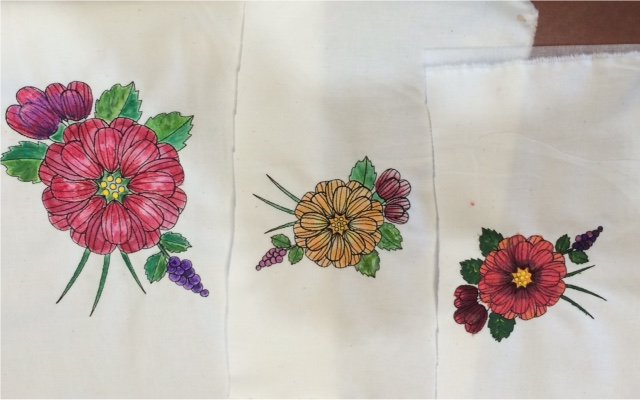 Susan Regan sent me these pictures. She used the sample design to give a demonstration to their quilt group.